Philosophy
Neil deGrasse Tyson: Why The Cosmos Shouldn't Make You Feel Small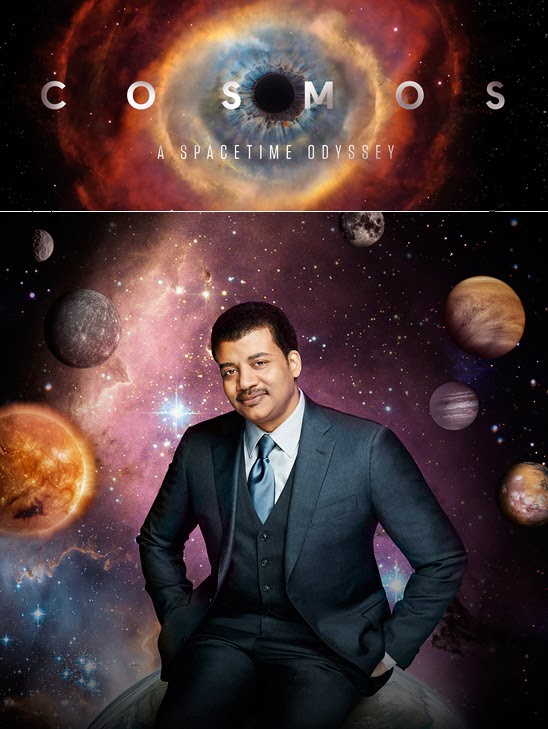 As you probably know, Carl Sagan's famous documentary series Cosmos is getting what I hope will be an impressive update/extension this year. Obviously, Sagan won't be narrating the documentary, so astrophysicist Neil deGrasse Tyson, who was actually a sort of protégé of Sagan's, has taken over the baton.
You already know how awesome he is. Have a listen to him discussing how science inspired him and how it can inspire all of us, some of the things the film Gravity got wrong in terms of the science, why Plato got demoted from its former planet status, some open mysteries in our scientific understanding, the importance of science education for innovation, how to think of ourselves with relationship to the cosmos and how he briefly toyed with the idea of becoming an exotic dancer. Yeah, you read that right :)
-
A Coincidence?...maybe
"Oklahoma Fox affiliate cuts evolution from 'Cosmos' premiere" In what Oklahoma City's Fox 25 called an operator error, the station aired a local news promo over the show's content that discussed evolution. by Sudeshna Chowdhury March...
-
"cosmos"...it's Back With A New Host--neil Degrasse Tyson
Popular science via "Cosmos" will return with a new outfit...more CGI, that is. "Cosmos Will Get a Sequel Hosted by Neil deGrasse Tyson" by Email Author August 5th, 2011 Wired More than three decades after it aired, Carl Sagan's groundbreaking, brilliant...
-
"living Popular Scientist" Poll
Who is your choice for living "popular" scientist? Brian Greene...0 Freeman Dyson...3 Lawrence Krauss...0 Neil deGrasse Tyson...2 Stephen Hawking...3 Somewhat surprised. I suppose Hawking would lead...he is quite an icon. I expected Krauss to be at the...
-
Neil Degrasse Tyson..."nova Sciencenow"--2nd Season
Neil deGrasse Tyson [cool jacket] Since the death of Carl Sagan, a vacuum was left when it came to popularizing science, but there are new individuals on the horizon. There is Brian Greene and now Neil deGrasse Tyson [Astrophysicist and Director of the...
-
Neil Degrasse Tyson...new Representative
A few nights ago the local PBS station began to rebroadcast NOVA's four part series called Origins that attempted to explain the origins of the solar system with emphasis on Earth. Like the majority of these type of programs of popularization of...
Philosophy