Philosophy
Luna Trio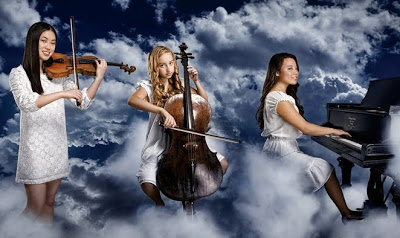 This has nothing to do with the Moon or philosophy or science...just three teens [Jennifer Wey (violin). Mayumi Tsuchida (piano) and Tessa Seymour (cello)] from San Francisco who love classical music.
PBS's

From the Top
Season 2
Episode 9
They will play Paul Schonfield's First Movement [Allegro] from

Cafe Music

.
This is cool music and something silly at the end...Jennifer Wey [violin] recites all the states in one breath.
Go to
From the Top
, click to start and the menu under the video will display the program's sections and click the second selection.
-
Doggone It, Is It Music?
A colleague is teaching a class in the philosophy of music and began by asking if certain instances of sound production fit the definition of music. He played this clip: The class contended that if this was a free act by Tucker, they would consider it...
-
Rock 101: We Do Need Some Education
TheWife is not a popular music person, so around the house we tend to play world, jazz, or classical. But as Christmas approached, she voiced the concern that the kids might be alienated from their peers because they aren't listening to anything pop....
-
Altruistic Act For Japan's Nuclear Disaster
"Stradivarius violin sold for £9.8m at charity auction" June 21st, 2011 BBC NEWS A well-preserved Stradivarius violin has been sold in an online auction for £9.8m ($15.9m) to raise money for disaster relief in Japan. The violin was made in 1721 and...
-
Kxtr Classic 1660 Halloween Special
Patrick Neas is KXTR's Program Director and Morning Show Host from 6am to10am, Monday through Friday. Patrick has been waking up Kansas City area music lovers for more than ten years with a lively mix of uplifting and inspiring classical music, traffic,...
-
Music Of The Spheres?
In the words of Sarah Palin..."You bethcha"...she can hear the sounds of Uranus from her front porch. Abstract: What do Brian May (the Queen's lead guitarist), William Herschel and the Jupiter Symphony have in common? And a white dwarf, a piano and...
Philosophy