Philosophy
Before Photoshop there was...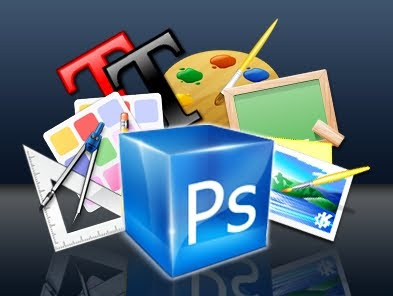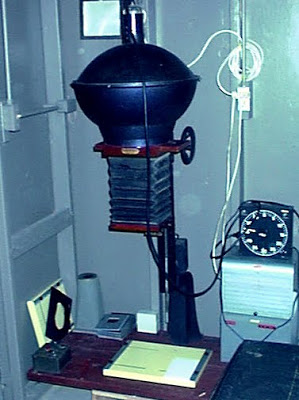 Long before computers and Photoshop, photographs were mostly manipulated in the darkroom or by the airbrush and negative retouching in the photo studio work room. Yes, the airbrush that mostly removed male and female genitalia when the balloons or volleyballs failed in the early skin magazines. But there were two men from Kansas that raised darkroom manipulation to humor and the exaggerated. They were William H. "Dad" Martin and Frank D. "Pops" Conard.
After this essay are some samples [from McMerc's farm?] that will rival the bravado and boasting that POSP stringer Tim claims about his Facebook farm
.
"Trick photography and postcards told tall tales to the folks back home"
by
James A. Fussell
July 9th, 2010
The Kansas City Star
Giant jackrabbits!
Corncobs the size of telephone poles!
Grasshoppers large enough to hold back freight trains!
Who says life was dull 80 to 100 years ago?
From the early 1900s through the "Dirty Thirties," exaggerated tall-tale postcards became a wildly popular product that people bought by the millions. And two of the most famous trick photographers to fashion these funny cards — William H. "Dad" Martin and Frank D. "Pops" Conard — hailed from Kansas.
Such photos seemed almost magical, much like photo manipulation with Photoshop can seem today.
Bill Becker, director of the online American Museum of Photography, has collected photographs since he was a high school student outside of Chicago in 1968. His site includes works such as the first human figure on paper and the classic photos of Ansel Adams.
Becker became interested in exaggerated postcards while researching photo montage and manipulated photography.
"Dad Martin's photography just jumped out at me,"

he said.

"For one thing, it takes the medium of photography, which a lot of people considered to be very literal, and uses it … to create pictures of things that don't exist in real life."
About 1907, such trick photography flourished after the government allowed people to write on picture postcards, creating a fun alternative to the letter.
Becker has an almost complete collection of Martin's postcards — 61 in all.
"I love the ones of the giant hogs getting served giant corn,"

he said.

"And there's one that I love that's called real horseshoe pitching in Kansas. I also love the wagon load of chickens and roosters being weighed on a farm scale. It's just four or five very large chickens."
Deborah Barker, director of the Franklin County Historical Society in Ottawa, Kan., (which has an exhibit of Martin's postcards), said many consider Martin the best artist to produce such postcards.
The concept of exaggeration was around before photographers put it on postcards, though. That went back to the beginnings of Kansas in the 1870s.
"There was an artist named Henry Worrall, and he was doing drawings for newspapers that exaggerated the size of crops in Kansas, trying to overcome a belief that Kansas was drought-ridden and terrible,"

Barker said.

"He would draw these huge watermelons and grapes and corn. Kansans were very interested in letting people think it was a Garden of Eden.
"At the same time, photographers were just figuring out how to 'lie with photography.' From one end of the country to another you start seeing these photographs where you see a railroad car filled with six oversized potatoes or an ear of corn as tall as a person."
Martin moved to Ottawa after the Civil War to apprentice with a photographer named E.H. Corwin.
"Eventually he buys out Corwin's studio and spends the first part of his career shooting portraits and babies,"

Barker said.

"But by 1908, he has started to sell his (exaggerated postcards)."
Producing the comical images was not easy.
"Nobody knows exactly how they did this, but it seems to involve making a very large blow-up of an image,"

Barker said.

"One example I saw showed a group of children holding a large piece of wood that has been cut in the shape of a slice of watermelon. Then (Martin) would go in and make a giant blow-up of an actual slice of watermelon, then physically superimpose one on the other."
He got very good at it.
"By May of 1910, the local newspaper claimed he had made seven million cards," Barker said. "He made a fortune."
Count Becker, the museum director, was very impressed.
"Based on those figures, if they're correct, he had to be the biggest selling photographer of the 20th century,"

he said.

"No single photographer I know would come close."
Martin's images also appear in the permanent collections of the Smithsonian's American Art Museum in Washington and the Metropolitan Museum of Art in New York.
Shortly after 1910, Martin sold his studio and then made a second fortune by founding the National Sign Co. Martin then became a farmer, a philanthropist and a restaurateur. He opened a restaurant north of Ottawa. During the Depression, he wouldn't charge people if they couldn't pay.
Then there was Frank Conard, a photographer from Garden City, Kan., who worked mostly during the Dust Bowl of the 1930s. Conard produced exaggerated postcards featuring giant rabbits and grasshoppers.
When it comes to grasshoppers and rabbits, said Laurie Oshel, assistant director and research librarian at Finney County Historical Society and Museum in Garden City, Conard was just reflecting the realities of his times.
"During the Dirty Thirties, there was a plague of grasshoppers that came through the Midwest and ate any crops that remained,"

she said.

"They ate clothing and wood and pretty much anything else that didn't move. At the same time it was (also) overrun with jackrabbits."
Conard saw a business opportunity. He eventually produced more than 150 exaggerated postcards and did very well financially.
Between 1928 and 1945, Finney said, one of Conard's female employees said she personally printed an estimated 2 million postcards by herself.
Besides making the exaggerated postcards, Conard and another man, O.B. Allen, also made and sold radio receivers during the '30s.
Conard also founded a radio station — KIUL — in Garden City, licensed in 1935.
It's still on the air today.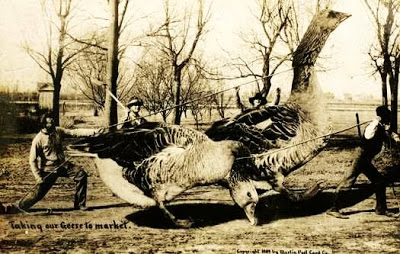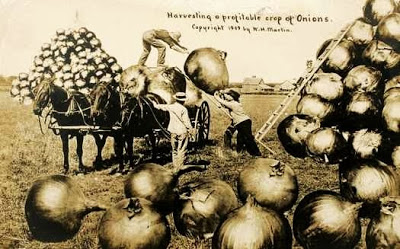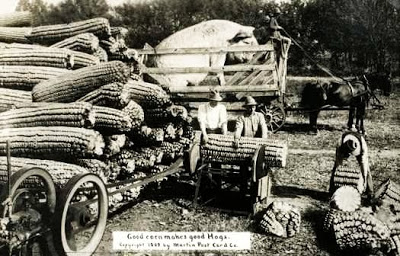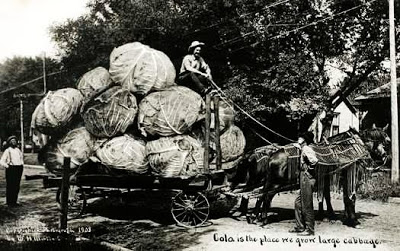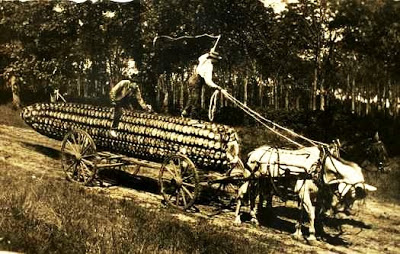 -
Deceased--horacio Coppola
Horacio Coppola July 31st, 1906 to June 18th, 2012 "Horacio Coppola, Evocative Argentine Photographer, Dies at 105" by Denise Grady June 30th, 2012 The New York Times Horacio Coppola, whose black-and-white photographs of the cafes, side streets...
-
Deceased--lillian Bassman
Lillian Bassman June 15th, 1917 to February 13th, 2012 Lillian Bassman and Husband Paul Himmel 1940s "Fashion photographer Lillian Bassman dead at 94"February 14th, 2012Los Angeles TimesPhotographer Lillian Bassman came on the fashion scene in the 1940s,...
-
Deceased--theodore Lux Feininger
Theodore Lux Feininger June 11th, 1910 to July 7th, 2011 "T. Lux Feininger, Photographer and Painter, Dies at 101" by William Grimes July 13th, 2011 The New York Times T. Lux Feininger, a painter and photographer who, as a young student at the Bauhaus,...
-
Deceased--richard Steinheimer
Richard Steinheimer August 23rd, 1929 to May 4th, 2011 "Richard Steinheimer dies at 81; pre-eminent railroad photographer" He recorded the industry's transition from steam to diesel, perched atop speeding trains to photograph their motion, and took...
-
Microphotographs...cool
"Rare Microphotographs Resurface After 150 Years" by Alexis Madrigal November 19th, 2008 Wired.com Drawing was a terribly important part of science until the mid-19th century. Without photography, scientists, particularly in the life sciences, had to...
Philosophy