Philosophy
And this is justice?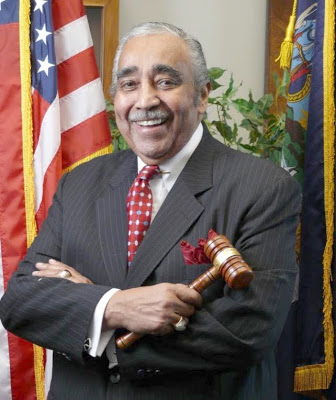 What a joke. A severe ethical issue was resolved with a worthless reprimand and a few dollars fine. The average Joe and Jane would be doing time.
"House Panel Recommends Censure for Rangel"
by
David Koceiniewski
November 18th, 2010
The New York Times
The House ethics committee on Thursday recommended that Representative Charles B. Rangel be formally censured for ethical misconduct, the most serious punishment the House can mete out to a member short of expulsion.
The 9-to-1 vote came after an emotional day and deliberations that the panel's chairwoman, Zoe Lofgren, a California Democrat, called "wrenching." At one point, Mr. Rangel struggled to compose himself as he pleaded for mercy from the panel.
"I don't know how much longer I have to live,"

said Mr. Rangel, 80, his eyes watery and his voice quivering. But, he said, whatever time he has, he will spend it trying

"to help people and thank God for what he's given to me."
A censure would mark a momentous downfall for Mr. Rangel, a Democrat who for 40 years has represented Harlem, where he was born. As a decorated Korean War veteran and civil rights advocate, he became a combative and irrepressible voice for liberal causes and, in 2007, snared one of the most powerful positions in Congress, the chairmanship of the Ways and Means Committee.
Censure requires approval by the full House, which plans to take up the matter after its Thanksgiving recess.
If, as expected, censure is approved, Mr. Rangel will be the first member to receive such punishment since 1983, when two congressmen were rebuked for sexual misconduct with House pages. Mr. Rangel would be required to stand in the well of the House while the speaker reads a resolution rebuking him.
The vote on Thursday ended the committee's two-year inquiry into Mr. Rangel's conduct. It found him guilty of 11 counts of ethical violations, improper fund-raising, failure to pay taxes on rental income, and failure to report personal income on his Congressional financial disclosure forms.
The ethics committee also ordered Mr. Rangel to pay thousands of dollars in unpaid taxes from rental income on a villa he owns in the Dominican Republic.
Earlier this week, Mr. Rangel stormed out of the subcommittee's proceedings, calling them unfair and complaining he could no longer afford to pay a lawyer. But he was present on Thursday, when the full committee's recommendation was read, and asked, somberly, that the committee note in its report that his transgressions had not been committed

"with the intention of bringing any disgrace on the House or enriching myself personally."
After noting, yet again, that he felt that he and his family had been victimized by the news media in a way that was

"just totally unfair,"

Mr. Rangel thanked the members of the committee and said he was sorry.
"I apologize for any embarrassment I've caused you individually or collectively as a member of this greatest institution in the country and the world,"

he said.
Mr. Rangel's troubles began in July 2008, when news reports revealed that he had accepted four rent-stabilized apartments from a Manhattan developer at prices significantly below market value. As his personal finances were scrutinized in the months that followed, Mr. Rangel was charged with an assortment of other violations, including a failure to pay taxes on rental income from the Caribbean villa and failure to disclose hundreds of thousands of dollars in assets on his financial disclosure forms.
Mr. Rangel's fund-raising for a City College of New York building to be named in his honor led to additional ethics complaints because he used Congressional stationery and staff, sought donations from corporations with business before his committee, and helped extend a tax loophole worth hundreds of millions of dollars for an oil company at the same time that he was asking for a $1 million contribution from its top executive.
Through much of the investigation, Mr. Rangel insisted that sloppy record-keeping had led to the problems, and stressed that he had never attempted to personally profit from his position.
In his plea for leniency on Thursday, Mr. Rangel invoked his decades of public service as a soldier, prosecutor and elected official. He was accompanied during part of the hearing by Representative John Lewis, a legendary figure of the civil rights movement, who described how Mr. Rangel marched alongside the Rev. Dr. Martin Luther King Jr. in Selma, Ala., and became a tireless advocate for anti-apartheid legislation and antipoverty measures.
"He has traveled the length and breadth of this country in honor of those who did not have a voice,"

said Mr. Lewis, a Democrat from Georgia.
But the committee's chief counsel, R. Blake Chisam, who acted as a prosecutor in the case, pressed for censure, saying that Mr. Rangel had violated the public trust for years and that the severity of his infractions undermined the credibility of Congress.
"He demonstrated a lack of attention and carelessness over a broad range of issues over a lengthy period of time,"

Mr. Chisam said.
The committee's deliberations are confidential, and the panel did not identify the lone member who dissented from the censure recommendation. But during Thursday's proceedings, Representative G. K. Butterfield, Democrat of North Carolina, emphatically pushed for the more lenient punishment of a reprimand, saying that Mr. Rangel's misconduct was unintentional and that his long record of public service should be considered.
"Censure is extreme and should be restricted to personal conduct" in which a lawmaker "received personal gain,"

Mr. Butterfield said.
Republicans, including Representative Michael McCaul of Texas, said Mr. Rangel and his supporters, in their eagerness to exonerate him, were relying on a definition of

"corruption that defied common sense."

Mr. McCaul said it was a serious breach of ethics for the congressman to seek charitable donations from businesses and executives who had legislative business before the House Ways and Means Committee while he was its chairman.
"Is that not corruption?"

Mr. McCaul said.

"I guess it is how you define corruption here."
Representative Jo Bonner of Alabama, the ranking Republican on the committee, brushed aside Mr. Rangel's attempts to blame staff members, accountants or reporters for his predicament.
"Mr. Rangel should only look into the mirror when he wants to know who to blame,"

he said.
The committee announced its vote just before 6 p.m. A weary Mr. Rangel walked out of the room, declining to speak to the swarm of reporters who chased after him. Then one woman in the crowd called out to him.

"God bless you, Congressman,"

she said.
He turned his head briefly.

"Thank you,"

he said, and walked on.
-
Rangel's Reductio
I've been fascinated by the dust up over Charlie Rangel's proposal to bring back the draft. Designed to shame those who rushed to war, it drew only eye rolls or looks of bemused puzzlement from them. From his own side, however, a significant portion...
-
Ethics Out The Window...government May Like The Idea Of Online Gambeling
The dollars rule. "Congress Rethinks Its Ban on Internet Gambling" by Swell Chan July 28th, 2010 The New York Times With pressure mounting on the federal government to find new revenues, Congress is considering legalizing, and taxing, an activity it...
-
Nasa's New Budget
Mostly good news with an amendment. Congress has scrapped the Moon mission [and Moon/Mars mission]...that's a smart move based on economics not technology which just isn't there. The amendment? NASA must do R&D for a new rocket. Okay, that's...
-
"house Passes Heavy Tax On Bonuses At Rescued Firms"--ny Times
Normally, I would not pursue this topic but it is curious to note what is happening here. It just isn't the amount of money involved. Sure it is high but small considering what the U. S. Government has invested in A. I. G and other companies. What...
-
Rush Holt--will He Assist Science?
Rush Holt Will Rush Holt be a significant spokesperson for the sciences in congress? Time will tell. Rush Holt, 59, is a resident of Hopewell Township, N.J. Born in West Virginia, he inherited his interest in politics from his parents. Hisfather was...
Philosophy